Innovative system to turn your FPV glasses ON and OFF
Compatible with all market models working from 4v to 16v.
Totally invisible, install your BMagix in the area you want with a maximum thickness of 5mm and non-metallic material.
Operating LED both inside and outside, choose the model and color of your led.
Fan or accessories powered without additional cables. Forget connecting more cables.
Totally reversible. If you upgrade your FPV device you can uninstall it and reinstall it.
»Comfort, lightness and above all … INVISIBLE»
Do you ride it or do we ride it? Choose your BMagiX
* All prices include shipping to Spain, consult other destinations.
* GROUPS OF MORE THAN 10 UNITS 25% discount to be deducted from the final price
Version 'BMagiX' = 19 eur
BMagiX sensor
Balance plug fan for Fatshark HDO, HD, HD2, HD3, Dominator V2, V3, V4, V5...
Micro color LED to choose: Blue, Red, Green, White, Yellow, Purple, Pink.
Wires
Tracking shipping only Spain
Version 'Go BMagiX Go' = 49 eur
Installation in 48-72 hours. Leave your glasses to our technical support and in less than 3 days you will have them with BMagiX installed. This service only available in Spain, for others countrys please ask us.
BMagiX sensor
Balance plug fan for Fatshark HDO, HD, HD2, HD3, Dominator V2, V3, V4, V5...
Micro color LED to choose: Blue, Red, Green, White, Yellow, Purple, Pink.
Wires
Exclusive FPV wipe
Tracking with insurance shipping only in Spain

Assembly manual (PDF Download):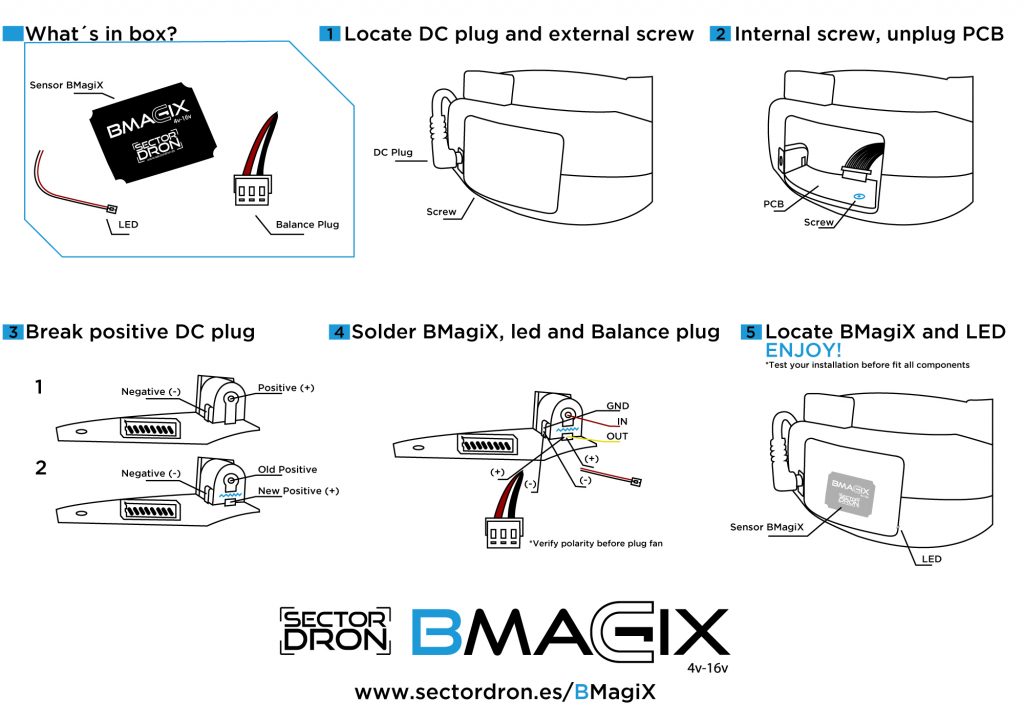 ¡Write us to get BMagiX from Sector Dron!
Questions and answers about BMagiX
In Sector Dron we offer you all our resources to give the best user experience answering all your questions:
Q: Can I install it on Fatshark, Eachine, Topsky, Skyzone goggles ...?
A: BMagiX is fully compatible with all current systems working from 4v to 16v
Q: What knowledge do I need to install the sensor, led and balancer?
A: The installation of the sensor is identical to any additional button to insert the main power, we can say that the installation of the button is simple for any user with some experience with welding. Requires access to the power plug of your glasses and solder 3 medium thickness wires. To install additional accessories such as the external LED and the balancer to the fan port, 2 welds are added for each element to the same positive and negative points of the BMagiX sensor. We can consider that to connect all the accessories the difficulty level is 3 out of 5.
For users with little or no welding experience we recommend using our professional installation service, in 2 days you will have your glasses with the BMagiX.
Q: I'm flying and suddenly someone touches my glasses, will they go out?
A: Being a capacitive wave sensor is able to detect the proximity of organic materials, by passing our hand it detects it and acts as an on or off. Although some person would touch the sensor zone, this would trigger the sensor, instead a fall of a leaf for example would not have any effect.
This question is usually common in future BMagiX users, it is necessary to think that exactly the same would happen as if the cable of our FPV system was disconnected. The idea of putting an outdoor LED to verify that glasses have or not the installation apart from gaining aesthetics is so that the pilots know that BMagiX is inside.
Q: I had the BMagiX system and I will update my system. Can I restore the old glasses and use it again on other glasses?
A: BMagiX is completely reversible, we will only have to remove the cables by desoldering or cutting and joining the bridge of the original installation plug. Then reinstall it on the new glasses.
Q: Does it work with dirty hands or gloves?
A: The sensor supports up to 5mm of wall between the sensor itself and the hand, if the gloves are not thick it will work without problem.
Q: Does it work with extreme cold heat?
A: BMagiX is prepared for all conditions, if the body temperature affects the hand being with the cold somewhat less effective, it will simply take a couple more seconds to detect your hand and only with extreme cold.